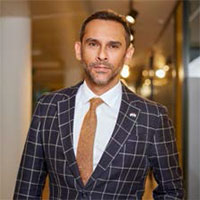 Nasir Zubairi
CEO of the LHoFT Foundation

CEO of the LHoFT Foundation, a Public/Private sector initiative to drive fintech and digitalisation for Luxembourg's financial services industry.
Officier de l'Ordre Mérite du Grand Duché de Luxembourg 2022.
Council member at British Chamber of Commerce.
Council member at Brtiish-Luxembourg Society.
01.09.2023 Main Stage
Chat #2: Building a strong Ecosystem for FinTech
How can Cyprus and other countries in the region foster a vibrant ecosystem for FinTech startups, including access to capital, mentorship, and networking opportunities?