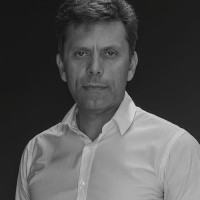 Konstantinos Lafkas
Partner, Uni.Fund

Partner, Unifund, a 30mn euro Innovation Fund
Founder MicroGlobals, A boutique consulting on ScaleUp and ExOs
Non-executive Board member ELTA
He is a seasoned corporate professional, serving for more than 25 years in high and C level managerial positions, Selonda (CCO), Sunlight (CEO), Alfa Laval Greece (CEO), Maillis (Development Director), Epa Attikis (Retail Sales and Customer Service Manager), Bitros SA (Sales Manager), Shell (Sales Engineer). He led the aggressive expansion of Greek multinationals all over the globe through organic growth and acquisition projects. In addition, he has been heavily involved, with his teams, in transforming businesses models, disrupting product/service fixedness and introducing new growth frameworks. The value of projects and deals involved exceed 1 bn euro.
He has lived in many European countries, Poland, Hungary, the Czech Republic, Germany and Spain and led business cases in the Far East, Middle East and the Americas. During his career he has spent most of his time travelling all around the globe and negotiating deals in many different environments and cultures.
Member of TEE, the association of Greek Association of Engineers and various alumni clubs.
Born in 1967. He holds an MSc in Mechanical Engineering, major production economics, (National Technical University of Athens), an MBA from IMD-Lausanne and an MSc in Decision Sciences, Athens University of Economics. In addition, he has been trained in specific managerial areas in high ranked Universities like Stanford (Entrepreneurship and Innovation), Babson (Entrepreneurship in corporate Environments), IMD (Program for Executive Development), INSEAD (Young Managers Program) and Ashridge (Strategic Global Sales and Marketing).
02.09.2022, FRIDAY Main Stage
Chat #5: Funding a FinTech company
Title: Financing fintech startups and scaleups.