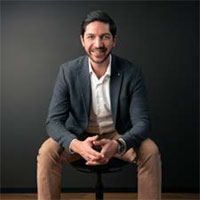 Lukas Enzersdorfer-Konrad
Deputy CEO, COO at Bitpanda

Lukas Enzersdorfer-Konrad is the Deputy CEO at Bitpanda, a leading trade-everything investment platform based in Vienna, Austria. Here, he also serves as the CEO of Bitpanda Technology Solutions, one of the most scalable "Investing-as-a-Service" platforms in Europe and worldwide. Holding an MSc in Banking & Finance, Lukas has a demonstrated history of working in the financial services industry and has firsthand banking experience, in-depth knowledge of digital assets, and leading digital roadmaps and platform strategies from conception to launch across retail and corporate product offerings.
01.09.2023 Main Stage
Chat#3: Crypto as an asset class for Banks: are banks ready?
This thought-provoking panel aims to explore the evolving role of cryptocurrencies as a potential asset class for traditional banks and assess their preparedness to adopt this new paradigm.