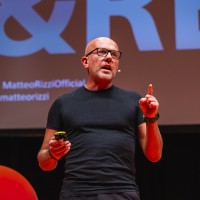 Matteo Rizzi – Moderator
Co-Founder at FTSGroup.eu PA "Fintech Revolution" and "Talents & Rebels"

Matteo has been actively engaged in the FinTech space for over 20 years and has deep connections amongst global banks executives, startups and investors. He knows how to bridge traditional banking with new or disruptive technologies, because he understands both.
A true multicultural European executive, he conducts business in Italian, English, French, Spanish and Portuguese.
In his 13 years role at SWIFT, Matteo covered various activities in sales and global account relationship.
In 2008 he co­founded Innotribe, the innovation arm of SWIFT. This is where Matteo launched the Innotribe Startup Challenge, the first global challenge for FinTech entrepreneurs, as well as the Enablers group, a cross­industry group mentoring Innotribe and SWIFT on strategy and financial trends.
In 2013, Matteo became a Partner in SBT Venture Capital, one of the first funds (100m USD) solely dedicated to FinTech investment (Series A). SBT Venture Capital has made some ten investments in promising start­ups to date.
In 2014, Matteo co-founded FinTechStage, a community platform holding events and conferences on FinTech around the world, and late 2015 he also joined Omidyar Network, Pierre Omidyar's organisation, with an advisory role for the Financial Inclusion division.
Financial News has nominated Matteo as one of the "40 most influential FinTech executives in Europe" in 2014, 2015 and 2016 and Bank Innovation named him one of the "30 Innovators to watch shaping the industry" in 2014.
Matteo holds a University degree in Computer Science (University of Genova) and a Post­graduate in Financial Transactions (Solvay Business School).
01.09.2023 Main Stage
Chat#3: Crypto as an asset class for Banks: are banks ready?
This thought-provoking panel aims to explore the evolving role of cryptocurrencies as a potential asset class for traditional banks and assess their preparedness to adopt this new paradigm.
01.09.2023 Main Stage
Chat #5: Change the mindset, change the game: corporate and entrepreneurship wellbeing
Discover the critical importance of nurturing wellbeing and fostering a positive mindset within corporate environments and entrepreneurship, as industry experts share strategies, insights, and success stories that can lead to enhanced productivity, satisfaction, and overall success in the business world.
01.09.2023 Main Stage
Closing Remarks
02.09.2022, FRIDAY Main Stage
Chat #5: Funding a FinTech company
Title: Financing fintech startups and scaleups.