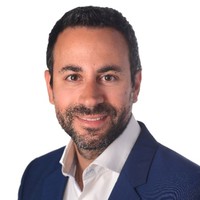 Nikolas Anastasiou
Business Solutions and Services, Division Head at Logicom

Nikolas Anastasiou is the Division Head of the Business Solutions and Services Unit of Logicom Solutions, where he also previously served as Head of Analytics and Digital. Throughout his roles, Nikolas focusses on the provision of solutions and services in the areas of Digital Transformation and Analytics. Previously, he co-founded and served as Technology Director at Emergent Systems, a technology focused company specializing in providing analytics and business intelligence services in the financial sector. Nikolas holds BSc, MSc and PhD degrees, starting with mathematics and specializing in computing, from Imperial College London.
He also obtained an MBA degree from the Cyprus International Institute of Management (CIIM) where he currently serves as visiting faculty, teaching Data Mining, Decision-Making and Visualization under the MSc in Business Intelligence and Data Analytics course.
Friday 29 January 2021
Panel 3: New developments in Banks & Payments institutions
During this interesting panel discussion our esteemed guests and moderator will discuss the future and new developments in Banking and Payment institutions in Cyprus and abroad.
The last fifteen minutes our speakers will answer and interact with questions from the audience. If you have questions before the event, join the discussion via twitter and use #CyprusFintechSummit.